Speaker
Sam Bompass, Bompas & Parr, UK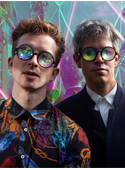 Co-founder of Bompas & Parr, Sam works as creative director of the company. He spends his time developing ideas that are universally appealing, experientially compelling and highly press-worthy. Projects such as Alcoholic Architecture have had a reach of 3.7 billion and Symphony in Blue (for Johnnie Walker Blue Label) toured to 14 countries. Press accolades include TimeOut's '50 Best Londoners' and Evening Standard's '1000 most influential people'.
Over the years Sam has cultivated an extensive network of historians, chemists, micro-biologists, artists, musicians, art directors, flavourists, chefs, professional noses, inventors, stage illusionists, and pyrotechnicians who collaborate with Bompas & Parr to create genuine world firsts such a fireworks show where you can taste the fireworks as they explode above your head, attended by a quarter of a million people.
Sam lectures internationally and has delivered keynotes for companies such as Google, Unilever, Diageo and Coca-Cola and at the Met, Royal Academy of Arts and Victoria & Albert . Particular areas of expertise include, consumer journeys, visitor experiences, routes to creativity, the future of food and drink and multi-sensory design.
« Go Back