Speaker
Victoire Dairou, Danone, France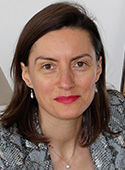 Victoire is VP, User eXperience for Danone, focusing on identifying User eXperience insights and co-designing with users to create delightful Food experience that people will adopt. She has been active in the sensory and consumer field for more than 20 years and is now a recognised leader in this space. She is obsessed by putting human perception and behaviour at the center of design to create meaningful and positive innovations.
She began her career in 2000 in the automotive industry with Renault as R&D Sensory Scientist, focusing on improving safety systems. She moved on to the strategic marketing team to lead the development of intuitive cockpit and Human-Machine Interaction for connected vehicles using design-thinking approaches. She joined l'Oreal in 2012 to create a unified R&I consumer and sensory team. She defined, with her team, the L'Oréal winning products design process based on consumer engagement from the word Go. She actively promoted User centricity for more disruptive and sustainable innovation relevant for consumers.
In 2018, she joined Danone as global VP Sensory and Behavior Science-R&I, to embrace as well as contribute to leading the food revolution movement and put User Experience at the heart of food innovation design.
She holds a B.S. in Biochemistry and an M.S. in Food Science from Paris 7 University and Paris 11 University, respectively, as well as a Ph.D. in Sensory Science from Agro Paris Tech. She is married with 3 children.
« Go Back